The Belmont Library Foundation is pleased to announce that CitySide Subaru of Belmont has donated $50,000 to the Belmont Library Building Project. This generous donation sponsors the Outdoor Terrace of the new Belmont Public Library.
At a check presentation ceremony on January 13th, CitySide Subaru owner Rick White and general manager, Nathan White, along with members of the Belmont Library Foundation, Library Board of Trustees, Belmont Public Library staff, and Belmont town administration were on-hand to receive the donation.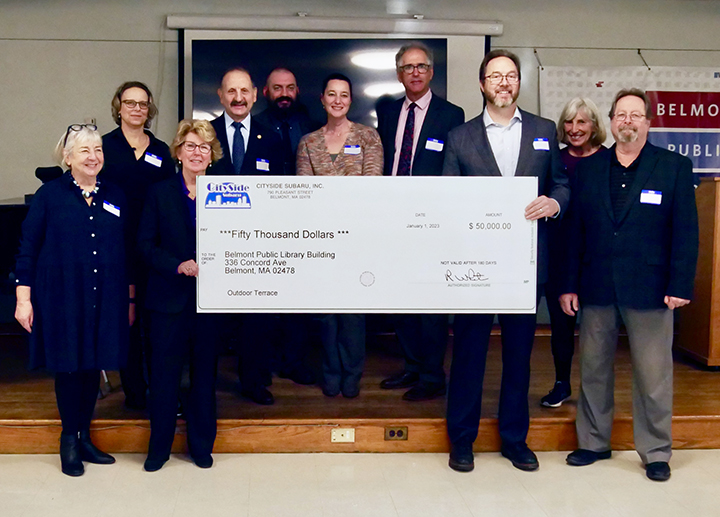 "We chose to support the Belmont Library Project, and the Outdoor Terrace in particular, because Subaru has always connected its customers with the outdoors and adventure. Subaru's newest trim level in the Outback and Forester is called Wilderness. What easier way is there to have an adventure than through reading a book while on the Outdoor Terrace? We are committed to the community, and we must all work together to ensure that Belmont remains a great place to live and to work," said CitySide General Manager, Nathan White.
CitySide's donation is part of the $5 million available for the Library Building Project. "Support from Belmont businesses has been instrumental in funding the Library Building Project," said Kathy Keohane, Belmont Library Trustee. "CitySide has a history of contributing to Belmont through various charitable acts, and we couldn't be more appreciative that they have chosen to support this important community-wide resource."
The Library Building Project is entering the design phase, with an anticipated opening date in the fall of 2025. For information on the project history, schematic designs, meeting information, and more, please visit the Library Building Committee website at http://belmontpubliclibrary.net/about/building-committee.
About CitySide Subaru
Cityside Subaru – www.citysidesubaru.com – is a Stellar Performer Subaru Dealership in Massachusetts and was named Subaru Dealer of the Year in 2021 by DealerRater.com. CitySide Subaru has been nationally recognized for their dedication to community and the Subaru Love Promise, receiving the 2022 Subaru Love Promise Community Commitment Award which nationally recognizes Subaru retailers who are making the world a better place while demonstrating an outstanding commitment to supporting passions and causes in local communities. CitySide Subaru is located at 790 Pleasant Street (Rt. 60) in Belmont, MA.
About the Belmont Library Foundation
The Belmont Library Foundation – www.belmontlibraryfoundation.org – was formed in 2005 to undertake fundraising and promotional activities to support the construction of a new Belmont Public Library. The Belmont Library Foundation endeavors to honor and continue the historic public/private partnership model established over a century ago by the vision and generosity of Henry O. Underwood who nearly single-handedly created Belmont's first dedicated library building.
###