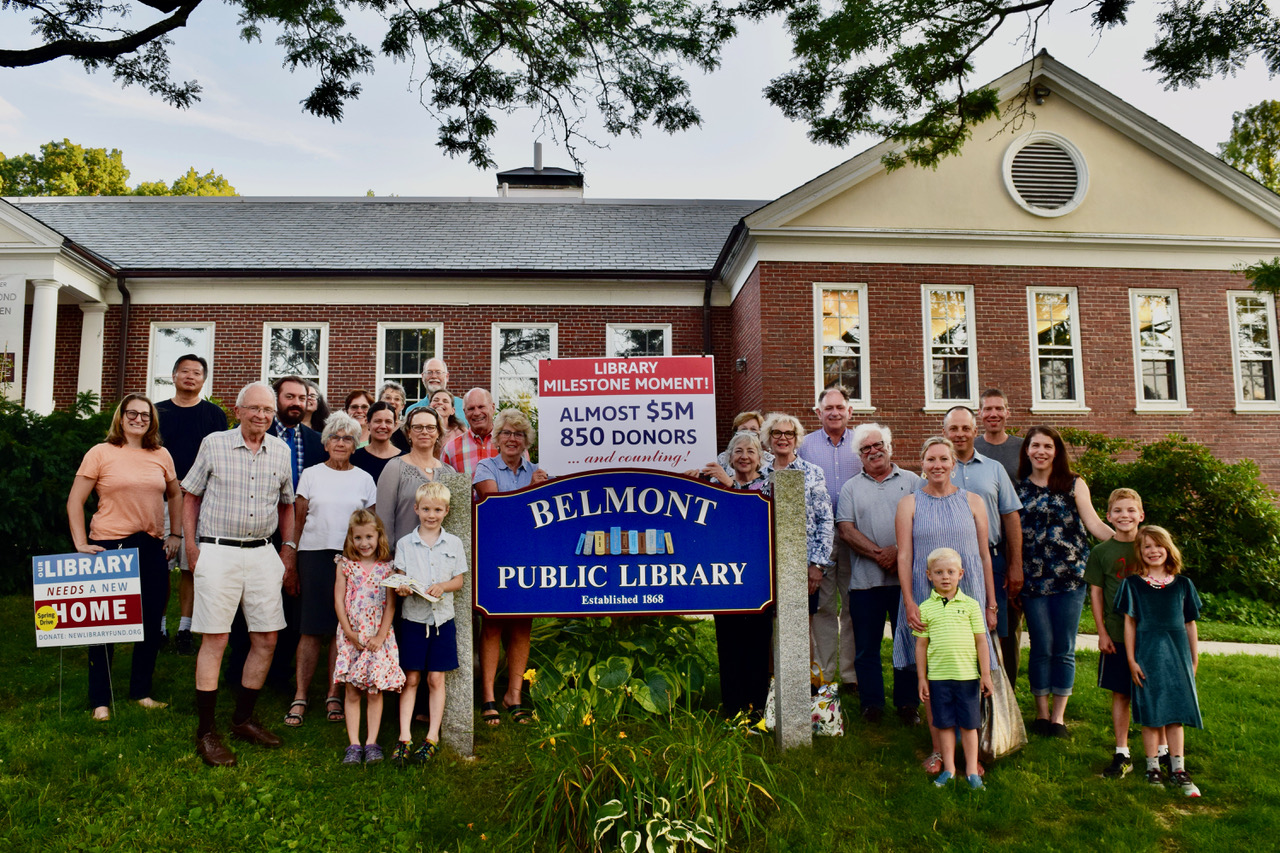 We are excited to announce that the Belmont Library Building Project has received an historic $2 million grant intention from the Belmont Savings Bank Foundation, bringing fundraising for a new library building to a milestone moment – $5 million and counting.
The $2 million grant intention for the new library building from the Belmont Savings Bank Foundation is unprecedented for the Foundation, the Town of Belmont, and of course, the Belmont Public Library Building Project. For the past 11 years, the Belmont Savings Bank Foundation has supported important charitable purposes that significantly impact the Belmont community – including education and literacy, athletics and arts, food security, playgrounds, and the Underwood Pool. With the $2 million grant intention, contingent on a debt exclusion, the Foundation will create a lasting legacy through the Belmont Public Library that will improve life for Belmont residents.
Fundraising totals for the Library Building Project have now crossed the $5 million milestone and continue to grow. The fundraising team from the non-profit Belmont Library Foundation has created an inclusive fundraising effort that encourages participation at whatever level is appropriate for each donor, and the community has responded. More than 850 people and organizations have made contributions and pledges ranging from $1 to $2,000,000.
Private donations are a crucial component of funding for the Belmont Library Building Project. The $5 million in available funds and pledges – restricted for the construction of a new library building – will offset the amount of public funding required for the project and reduce the financial impact on Belmont residents. To learn more about making a donation for the new library building and recognition opportunities, visit www.newlibraryfund.org.
The Library Building Project took another notable step forward last week when the Belmont Select Board voted to include a debt exclusion vote for the new library building on the November 8th election ballot. The serious issues with the old library building make it imperative that the project move forward as soon as possible, and the Select Board's endorsement of the project and action to send it to Belmont voters reflect the urgent need to replace the building. The debt exclusion is the next big step to achieve the greenlight for the project. For more information about the Belmont Library Building Project, please visit www.belmontlibraryfoundation.org.
We want to thank Belmont residents and organizations for their commitment to building a new library for our community. Together we have come far, and with these funding milestones, we are closer to making the new library the reality for Belmont.
Kathy Keohane, Vice-Chair, Belmont Board of Library Trustees
Marcie Schorr Hirsch, President, Belmont Library Foundation
This letter to the editor appeared in the Belmontonian © 2022 and can be found at this link, and is scheduled to be in the Belmont Citizen Herald at the beginning of August.