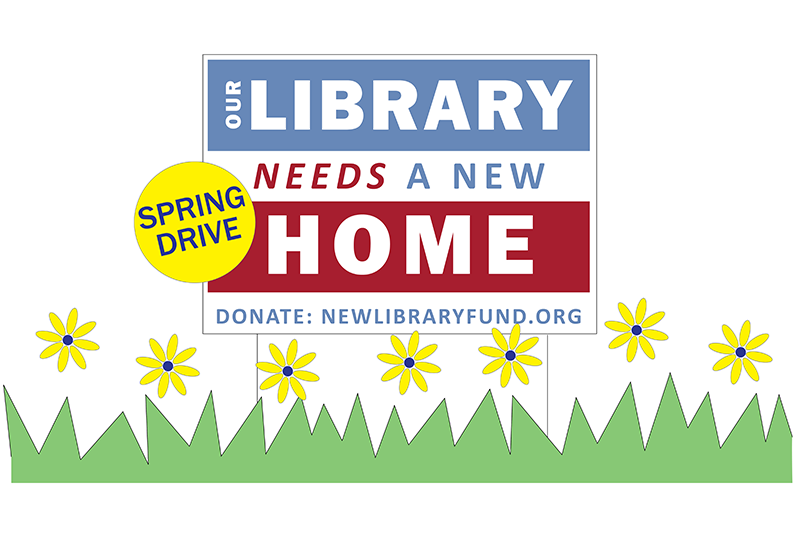 Our library needs a new home — and

YOU

can help make it happen!
May 1 – June 15, 2022

MAKE YOUR MARK!
All donors will be recognized on the new building's donor wall

JOIN YOUR FRIENDS AND NEIGHBORS ON THE "WALL FOR ALL"

**Additional recognition and sponsorship opportunities available for donations of $5,000 or more.
Email us at contact@belmontlibraryfoundation.org to receive additional information.
**Donations of $1,000 or greater can be made in the form of a pledge and can be paid over 2 years.
Preview the new Belmont Public Library design:
Read our e-book to learn more about the library project and what a new library building would mean for our town.
For best viewing experience, view PDF in landscape (horizontal) screen mode,
Button, select "Double Page Mode",
Button  for full screen viewing.

The new

library

building is designed to meet the programmatic needs as defined through a public process during the feasibility study. The design includes:
A two-story building with a ground-level accessible main entry from Concord Avenue
A main area adjacent to the main entry with open sightlines, a circulation desk, and a main staircase that can be used to gather, read, and host programs and events
An expanded Children's Room, which also includes a dedicated storytime/project room and plentiful stroller parking
A dedicated Young Adult area for teens and tweens to study and hang out
A second floor with ample flexible spaces for books and printed materials, various seating options (e.g. tables and chairs, laptop bar, soft seating), quiet individual study areas, and group collaboration rooms
Dedicated spaces such as a maker space, technology room, digital media lab, Belmont History wing, and outdoor areas for classes and events
A community room with after-hours access that can be used for meetings, concerts, and events
A sustainable, energy-efficient approach including an all-electrical building, rooftop solar, daylighting, and a highly insulated building envelope
The existing library building is failing and urgently needs to be replaced:
There are constant failures — big and small — in critical library building systems. These failures have already led to multiple library closures and could have disastrous consequences for the resources inside. The problems with the building cannot wait any longer.  At a cost of tens of millions, repairing the old building is not a responsible option.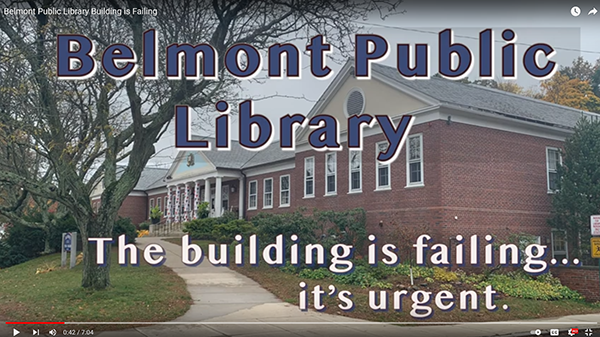 This video, presented at the joint meeting of the Select Board and Library Trustees on October 4, 2021, gives a seven minute overview of the multiple ways the current library building is failing and why it urgently needs to be replaced.  You can watch the video in its entirety on YouTube here and on the Belmont Media Center here.
Learn more about the Library Project:
Save the Date: The Library Building Project Public Forum #7 will be held on June 9th to give members of the public an overview of the project, its history, and the new library building design.
You can also read more about the project and the Belmont Library: